UAW Strike Support: We Are Here for You During This Time!
As a result of the UAW strike, we are extending our support to you, your friends, and your family, whom this strike may impact. This support includes but is not limited to, aiding with current and future appointments and providing information regarding your dental benefits and our financing options. Our core value is having care and compassion for our patients and community! Rest assured that our team is committed to doing everything within our power to ensure your oral health remains intact during your time of need.
Please contact our office at (248) 327-1919 to discuss your options, ask questions, or express your concerns.
If you know a friend or family member whose health benefits are affected by the strike and are searching for an emergency or primary dentist, contact our office for additional support.
When Should You See A Periodontist?
If you notice a change in your bite, swollen or bleeding gums, or receding gums, it could be a sign that you are experiencing the early stages of gum disease. Gum disease has severe consequences, including tooth loss, bone damage, and chronic pain. Left untreated, you can expect multiple tooth extractions, expensive operations, and, eventually, the need for dental implants. The good news is, if caught early, gum disease treatable, and any damage that has occurred is reversible. If you are experiencing any of the conditions above, contact us today for a periodontal exam.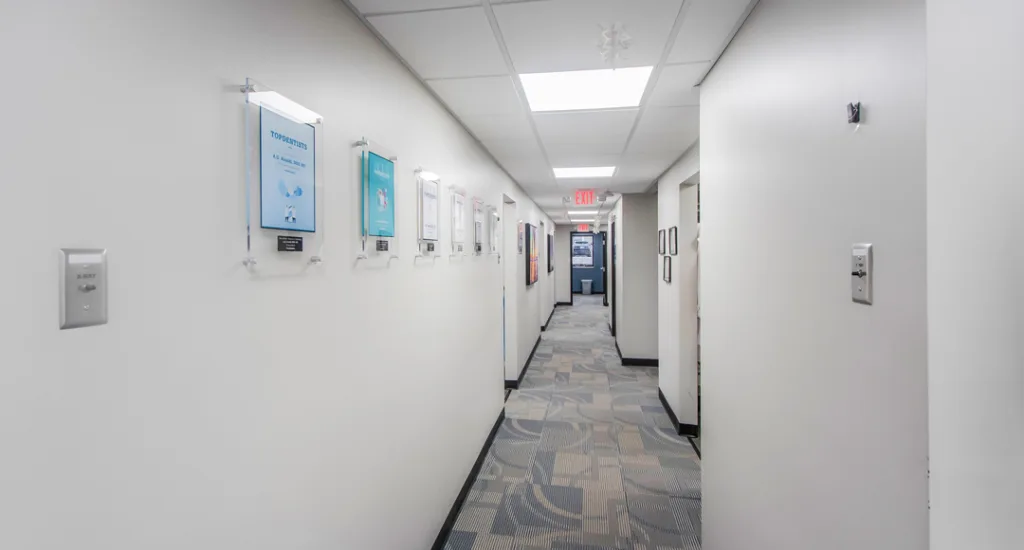 Our fees may be paid by credit card. We accept Mastercard, American Express, and Visa. Payment arrangements may be established through outside finance companies. See more details below.
We understand that the cost of proper dental care can be high. We also know that having healthy teeth and gums are essential for living a healthy and full life. Your comfort and happiness should not break the bank. It is why we are proud to offer our patients financing on all of our procedures so that they can avoid obstacles in obtaining essential health services.
Financing Available Through CareCredit®
While we strive to keep our prices competitive to provide patients with high-quality care, materials, treatments, we often refer patients with financing needs to CareCredit®. CareCredit® provides customized financing, some of which begin at zero percent for a 12-month loan.
As a reminder, here are some of the enhanced safety standards that you can continue to expect:
Our team members are screened daily for COVID-19 risk factors
We recommend that patient documents are completed prior to your appointment.
Upon request, we offer a Concierge Service – from Car to Chair. Upon arrival at our office, you may wait in your vehicle and give us a call to check-in. We will call or text you once the office is ready for you to enter, and one of our team members will personally escort you directly into your thoroughly disinfected treatment room.
Every person entering the office is encouraged to wear a facial covering or face mask
Please take your temperature the morning of your appointment and notify the office if you have a elevated temperature.
We will ask that all patients enter the office unaccompanied, if possible. For those patients who need assistance, we ask that this be limited to a single person if possible. If a patient is accompanied by a guest, we recommend that the guest waits outside of the office. However, we have created social distancing space in our reception/waiting area.
Room Disinfection – We provide adequate time for our teams to disinfect all areas of use in between patient appointments.
Our waiting area will no longer offer magazines, charging stations, children's toys, etc., as these items are difficult to disinfect.
Our doctors and team will be wearing all of the recommended and supplementary personal protective equipment (PPE). You may see face shields, caps, shoe covers, gowns, gloves and masks, but you can be rest assured we're smiling underneath them.